BAND & MUSIC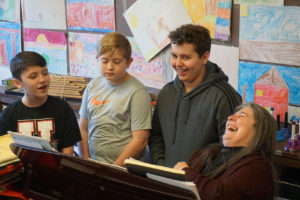 Holy Family offers band and choir instruction under the direction of Judy Barnum.  These programs are available to students in grades 4th through 8th.  Students have an opportunity to compete in music and choral competitions.   The Holy Family Select Choir and Dominic Savio Choir are known in the community for their exceptional choral performances.  All students of Holy Family School perform in the annual Christmas and Spring Concerts held during the school year.
GIRLS WHO CODE
Girls (and boys) in grades four through eight are invited to participate in the Girls Who Code club.  This club meets twice weekly in the HFS Computer Lab.  Participants watch informational videos and are guided through coding projects.
STUDENT COUNCIL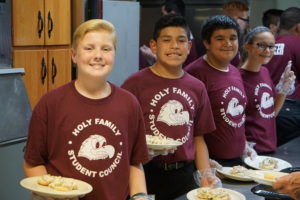 All seventh and eighth grade students are eligible for membership in the Holy Family Student Council.  Members participate in spiritual, charitable, social and service activities in our school, parish, and the community.
CHESS CLUB
Students in third through eighth grade 8th may participate in the Chess Club under the guidance of Ms. Cindy Reber.  The Chess Club meets weekly after school in the HFS Cafeteria.  Students of all grade levels receive instruction and compete against each other in practice matches and in-school recreational tournaments.
SPEECH TEAM
Students in grades five through eight, under the direction of Mrs. Pennell, may be a part of the Holy Family Speech Team.  Students have the opportunity to perform in individual and duet events at regional speech competitions.
OTHER ACTIVITIES:
Students have a plethora of opportunities to participate in other after-school activities, including Cub Scouts, Boy Scouts, Girl Scouts and Girls on the Run.